Designed Healthy Living Blog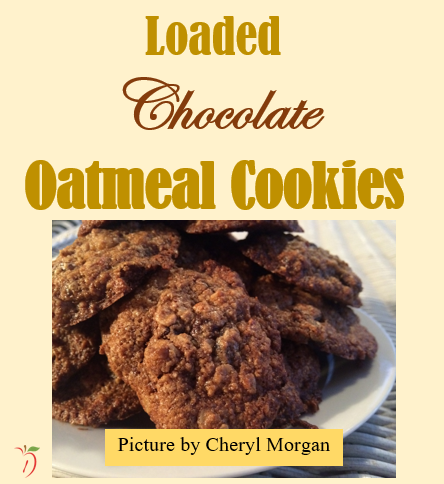 Loaded Chocolate Oatmeal Cookies
¼ Cup butter- softened
¾ Cup sucanat with honey
1 Teaspoon ground cinnamon
½ Teaspoon baking soda
1/8 Teaspoon salt
1 Egg
1 Teaspoon vanilla
¾ Cup soft white pastry flour
¾ Cup old-fashioned oats
¼ Cup freshly ground flax seed
¼ Cup wheat germ
½ Cup dark chocolate chips
¼ Cup dried cranberries, raisins, or chopped dried cherries
¼ Cup chopped walnuts- toasted
Preheat oven to 350 degrees F.
In a large mixing bowl, beat butter with an electric mixer on medium to high speed for 30 seconds. Add sucanat, cinnamon, baking soda, and salt. Beat until combined, scraping sides of bowl occasionally. Beat in egg and vanilla until combined. Beat in flour. Stir in old-fashioned oats, ground flax seed, wheat germ, chocolate, cranberries, and walnuts (dough will be a little crumbly).
Drop dough by rounded teaspoons 2 inches apart onto ungreased cookie sheets. Bake for 9 to 11 minutes or until tops are lightly browned. Let cookies cool on cookie sheet for 1 minute. Transfer cookies to wire rack to cool.

Makes about 30 cookies.
Recipe can also be found here: http://designedhealthyliving.com/recipes