Designed Healthy Living Blog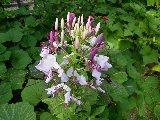 My Seeds -
This summer I have been intimately excited about a flower growing in my garden. I had planted some seeds of this flower for years. Each year – throw out some seeds – no flower
Next year throw out some more seeds – no flower, again next year – no flower.
This year I determined not to give up –one last effort – I only had a few seeds left.
So this time I decided to do something different – I prepared the soil with some of my organic compost, I planted the seeds a little under the soil – instead of throwing them on the top. And then I watered the seeds every other day.
To my surprise little bits of green started poking their heads from the soil. But was it my flowers or my vegetables I had planted in the same area? But my heart told me - "Don't pull it" – let's wait and see.
Sure enough - when the blooms formed and opened up – my heart exploded.
Why did I get so excited about a flower?
Those seeds had been given to me by my mom almost 10 years ago. I still remember seeing them bloom on her patio – in fact they would reseed themselves every year and keep coming back for her enjoyment and beauty on her patio.
Almost one year ago I said goodbye to my mom and she slipped into heaven. I miss her more than I thought was possible. But this year I was determined to give these seeds every possible chance to not only survive but to bloom. The beauty in these flowers represents the beauty of my mom.
Your Seeds Sometimes we want health but yet we throw our hopes in the wind – maybe this supplement will work, maybe this food will make the difference, maybe this work- out program will be the ticket to success.
Too many times we start a program only to give up right before it was ready to burst forth in bloom.
Does that describe you?
Are you ready to really do it this time? Are you ready to weigh less for the rest of your life, feel better for years to come, breathe better in your home, _________ - you fill in the blanks.
What are you missing and what are you willing to do to see your health bloom?
To be honest – there are days that if I wasn't teaching healthy living I would have given up. The culture we live in makes this challenge difficult. But I found it was my focus – focus on biblical success and it is easy. Focus on the struggles and you will never achieve the pinnacle of success you really deserve and desire.
Getting started – Getting planted
Sow your seeds on fertile ground. The fertile ground is your mind. Determine your success and your actions will follow.

Choose foods that bring health, joy, slimness, and fulfilment. Remember the 3 Principles taught in the Treasures of Healthy Living Bible Study.

Supplement wisely – I would never go a day without the Shaklee Vita Lea (multi), B complex ( I love my mind and this protects it), Omega Guard (again protecting my mind and hormones – lose either of these or both and you are at the mercy of your kids taking care of you - think about it) and finally the Shaklee protein.
This is the basic building block to our success.
Join me as we garden together in our health and in our finances. Together they shape our future.