Designed Healthy Living Blog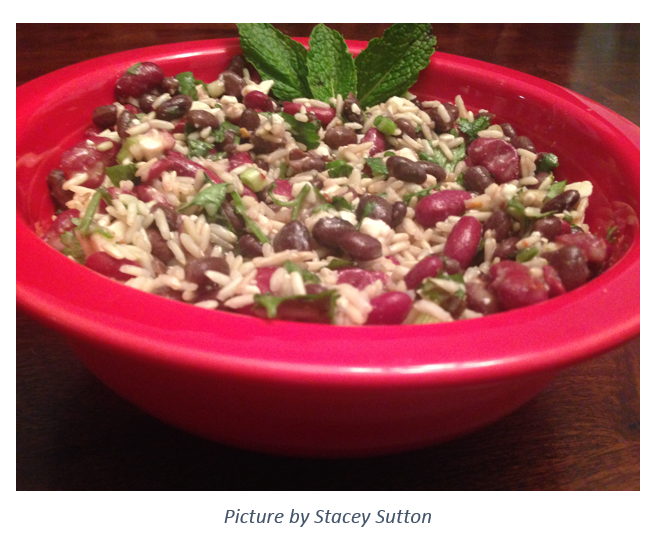 Zesty Rice and Bean Salad
2 Tablespoons olive oil
1 Garlic clove, chopped
½ Teaspoon ground red pepper
¼ Cup fresh lime juice
¼ Teaspoon salt
2 Cups brown rice- cooked
15 Ounce black beans- rinsed, drained
15 Ounce kidney beans, rinsed
¼ Cup feta cheese
4 Green onions, sliced
¼ Cup fresh mint- chopped
¼ Cup fresh cilantro- chopped
Whisk together first five ingredients. Add the remaining ingredients to coat. Cover and chill one hour.
Recipe can also be found here: http://designedhealthyliving.com/recipes
Navy Beans in Raspberry Vinaigrette
A combination that is irresistible- Serve as a vegetable or salad
2 Cups or 1 can drained navy beans or cannellini
1 Cup onion- finely chopped
1 Garlic clove-minced
2 Tablespoons parsley- finely chopped
2 Tablespoons fresh basil- chopped
1 Tablespoon fresh mint- chopped
¾ Teaspoon salt
Freshly ground pepper
1 Teaspoon honey
¼ Cup raspberry vinegar
¼ Cup olive oil
½ Cup fresh raspberries- rinsed and drained or frozen- thawed & drained
In a 1-quart saucepan, mix onion, garlic, parsley, basil, mint, salt, pepper, honey, vinegar, and olive oil. Mix well. Add the beans and mix lightly so as not to crush or break them. Heat over very low heat until warmed through.
Serve warm or cooled. Just before serving, gently stir in raspberries.

Makes 4 servings.
Recipe can also be found here: http://designedhealthyliving.com/recipes