Designed Healthy Living Blog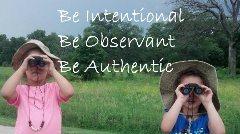 BE INTENTIONAL
Don't give your only hiking map to the baby!
I thought Hazel, my youngest granddaughter, needed a little entertainment as she bobbed along in her carrier attached to me. But when we realized we were lost on the trail and our only map was now in sticky bite size pieces plastered all over Hazel's face I knew we were in trouble.
As we found the right trail, Lillie and Stella, trying not to break camp rules of no complaining just kept saying as we hiked further into the woods – "I wish Hazel hadn't eaten the map!"
But our perseverance paid off, we saw this eagle perched above her nest with young eaglets in it!
I just returned from Camp Graca. It was a fun time doing camp with my granddaughters. We hiked, climbed, played, did crafts and hiked some more.
Let each camper make their own Trail Mix for daily hikes.
It seemed no matter how much we hiked or explored they knew they could eat their trail mix any time they wanted. This made them very happy. And since they put it together themselves from the nuts, seeds, fruits and granola I provided, I knew it was healthy.
BE OBSERVANT
Seek out ways to show the grand-kids God's lovingkindness.
Our memory verse for camp was:
The earth is full of the lovingkindness of the LORD.
Psalm 33:5
As we explored, our goal was to see how many different ways God shows us His lovingkindness. It is all around us; in the trees, under a rock, in the water, in the air and also in our trail mix.
His lovingkindness is there for us to enjoy.
BE AUTHENTIC
Let kids be kids and grandmas be grandmas.
Most of all be real with our words, actions and thoughts so that no one can deny Christ lives in our lives.
This summer be intentional about looking for and enjoying God's lovingkindness.
Be intentional – be observant – be authentic.
Summer is the best time to enjoy fruits and vegetables FRESH!
Fresh from the garden is the best way to taste and savor – discover and experience the excellent of their kind.
Blessings to each of you,
From my heart to yours and from my kitchen to yours,