Designed Healthy Living Blog
Wednesday, January 22 2014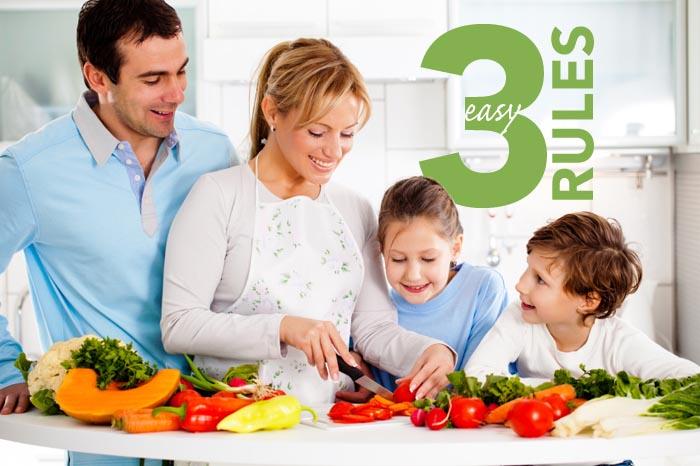 Paleo Diet, grapefruit diet, HCG diet, the sprinkle diet, the lose weight while you sleep diet, diet, diet, diet. Every day there are new rules and new diets. When I was a young wife and mom I tried every diet out there and bottom line they each worked but only for a short time. I continued to gain weight, feel lousy all day long and have no energy.
Now I have years of experience to still agree they don't work. These diets never answered that one question constantly playing in my mind: If I was created for a purpose by a loving God, wouldn't food have a biblical guideline to match the creation?
As if descending down on a cloud the answer came – the rules to eating I could live with and not only live but worship and glorify. Worship rules? Yes, when they are such as these:
RULE #1 – EAT THE FOOD GOD CREATED FOR YOU TO EAT.
That is simple enough since headlines everywhere claim fruits, nuts, vegetables are the perfect food. So yes, I can do that. But does that mean all food must be raw? No, keep reading.
Foods that fit perfectly in rule #1 include: fruit, nuts, seeds, vegetables, meat, eggs, dairy, and bread – yes bread.

RULE # 2 – EAT THE FOODS CLOSEST TO GOD'S CREATION
WITH VERY LITTLE ALTERATION.
In our pleasure and compulsive seeking culture, we often formulate additives, chemicals and processed foods that take us away from our Creator's perfect design for nutrition. Altering foods has caused an alarming rate of obesity,
diabetes and other serious health issues.
Proverbs 14:12 – There is a way that seems right to a man(such as additives, flavor enhancers, etc), but in the end it leads to death.
Foods that fit perfectly in rule #2 include: same as above but avoid processed foods. Bread – learn to make your own by milling your own wheat, add grains into the diet but start with the real grain and cook it yourself, find meat and dairy that is rich in nutrition and yet empty of hormones and chemicals.

RULE #3 – DON'T LET ANY FOOD BECOME YOUR GOD
Chocolate, coffee, chips, yes they can be addictive but that does not make them a wrong choice. YEA – that is good news. But when these foods are addictions – meaning you can't go even a day without them then that is a sign of trouble.
When food consumes our thoughts, actions and behavior – oops we may have a problem. Addictions are rampant in our society. And food can be an addiction.
Exodus 20:3 You shall have no other gods before me.
John Piper states: What we hunger for we worship.
That is a strong statement for me since I was plagued with food addictions most of my life. But when I saw that it wasn't the food that brought love, joy, comfort and fellowship but instead it was the relationships in my life; then food was able to take it rightful place – on the table.
Healing food additions is best through fasting. Fasting from one food, food group or all food for a specified length of time can help us break this addiction.
3 EASY RULES – rules that you can take in your pocket to the grocery store, the restaurant, and even in the kitchen to prepare healthy satisfying meals your family will love. And best of all these foods will bring the joy of glorifying health to your family.
Now after applying these rules to my life for over 10 years:
lost and kept off 50 pounds – that is something to shout about,
no prescriptions since 2003! That is an even bigger shout out!
Energy and vitality
NO MORE DIETS!!
You too, can follow these 3 easy rules – it is freedom indeed.
PLAN OF ACTION:
Learn more about these 3 easy rules read these books:
• What the Bible Says About Healthy Living: 3 Principles that Will Change Your Diet and Improve Your Health
by Dr. Rex Russell (He is the original author of these three rules.)
• Treasures of Healthy Living Bible Study by Annette Reeder -the three rules (principles) are expanded and delivered with a foundation to learn more from the Word than even before about healthy living from a Biblical standpoint. This is the tastiest Bible study ever written.